Kate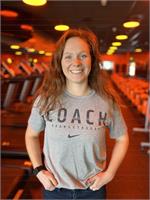 Coach Kate completed her undergrad degree at Michigan, majoring in History and Russian Language. Currently, she's a Master's student at the U of M studying Sports Management. Kate is a two time National College Boxing Champion, and was the first woman to win a National title in boxing from U of M. Kate has worked both as a personal trainer, fitness-boxing instructor, and
boxing corner coach. Kate loves the programming at Orangetheory because the high-intensity interval training is similar to the training she used for boxing. She loves encouraging members to push themselves, and seeing their excitement after they
reach their personal goals.
WHAT DO YOU BURN FOR?
Athletic performance and a higher aerobic threshold.

WHAT'S YOUR GUILTY PLEASURE?
Craft beer

WHAT'S YOUR FAVORITE OTF EXERCISE?
Sprints on the rower
Kate instructs the following:
60 Minute Orange Theory Workout