Jolie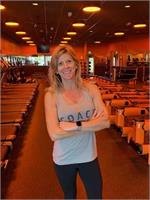 Head Coach
Jolie completed her Bachelor of Science Degree in Exercise Science and a minor in Nutrition from Central Michigan University. She's certified by the American College of Sports Medicine and has worked in both clinical and fitness settings. Jolie has a well-rounded health and wellness background and is excited to share her knowledge and passion for group exercise with you! She is motivated every day by the people she interacts with and their willingness and desire to achieve their personal goals, despite any physical limitations. She loves the camaraderie at Orangetheory and firmly believes in interval training to achieve results.
WHAT DO YOU BURN FOR?
A healthy heart and to reduce stress.
WHAT'S YOUR GUILTY PLEASURE?
Chocolate!
WHAT'S YOUR FAVORITE OTF EXERCISE?
Burpees.
Jolie instructs the following:
60 Minute Orange Theory Workout




The largest capacity workouts at OTF. 3 Groups training in all 3 areas of Treadmills, Rowers and Weight Room at the same time. The duration of the training blocks for each area will be varied.